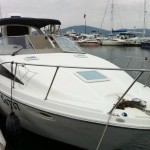 No matter whether you're buying a new or a used boat there are probably a few things that you need to consider before doing so. From the purchase, to maintenance, to life with a boat – there are a number of things that need to be considered beforehand. So, let's take a closer examination.
Buying Tips
When buying a boat there are a number of things that need to be considered. Boats can be subjected to all sorts of problems and it's a good idea to keep an eye out for problems. Fibreglass cracks are a big problem if they are over 2 inches or so. This is often the sign of a boat that's been in a collision. Gel coat patches are also worth looking out for, as these are also a sign of problems.
Flexing or cracking, as well as moisture in fibreglass can cause problems too and indicate rot or break down of fibreglass. Loose seats inside are also a sign of problems as can mildew – as this often is a sign the boat hasn't been cared for. In addition, this can be a signifier there are problems underneath the boat and in the wooden part of the boat. This is because of the quick spreading of mould spores.
Electronics
Electronics can be low cost problems to fix, however they can also cost more extensive amounts of money too. Burned out bulbs or seized bilge pumps can be sorted with a trip to your chandler, however if multiple devices are fried, this is often a bad sign. Check to see if it's a case of faulty wiring, or if there are problems with the engine or wiring insulation – the former are more serious problems.
Belts
Belts need to be changed after around 80-100 hours of boating time and if the alternator or the power steering belts tend to be worn, or cracked they need to be changed. Changing damaged belts isn't a problem; however it does signify lax care and attention towards the boat and should certainly be noted. Stainless Direct have a whole host of marine and chandlery gear for anyone needing to make repairs to their boat.
Read the rest of this entry »